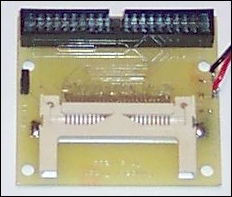 The first piece of hardware of 2003 - Compact Flash Interface.
This small adaptor board allows you to use a Compact Flash card with the Atom hard drive interface. I had this idea when the hard drive I use in my 'Sam In A Can' developed a lot of surface errors and corrupt sectors. By using CF cards, which are getting fairly cheap, it provides a great new storage solution instead of hard drives.
The small interface can easily sit inside the Sam, and can be positioned just behind the bay cover for drive 2 - I am supplying the interface with 4 sticky backed stands so it can be securely mounted inside the Sam. If you require a short IDE cable to keep the cabling neat I can make them up on request.
*** Please note the Compact Flash Interface has now been discontinued. For mass storage for the SAM Coupe please see the Trinity Ethernet Interface.


Frequently Asked Questions...
Are there any cabling restrictions when connecting the interface?
Yes, cabling is important when connecting the interface. Compact Flash is designed for low power embedded applications ideally, and as such it is not designed to sit at the end of a long IDE cable. Below are the cable lengths I have used reliably with the Compact Flash Interface
Cable length recommendations:
Normal IDE cable: 20cm (Suitable length for fitting the interface inside the Sam)
ATA66/100 (80 Conductor IDE cable): 80cm
Does the Compact Flash Interface require power?
The interface requires a 5 Volt supply, and has two leads attached which have to be connected to somewhere suitable inside the Sam for power - such as solder pads on the Atom interface, or onto the Sam motherboard itself. Compact Flash is a low power device, so power from the Sam is adequate - no extra PSU is needed.
What Versions of B-DOS detect the Compact Flash?
Compact Flash is detected fine by B-DOS up to version 1.7d, when it is set to master. I have not successfully managed to use the Compact Flash as a slave device - I will continue to experiment (I have had trouble with B-DOS to even use 2 hard drives in master / slave configuration).
Later versions of B-DOS hang on bootup (ATAPI detection in the later versions causing conflict perhaps ???)
What Compact Flash cards have you used with the interface?
This is a list of Compact Flash cards that have been used with the interface:
(Reprinted from issue 7 of Sam Revival magazine)
SUCCESSFUL:
4 MB Compact Flash (unbranded)
8 MB Samsung Compact Flash
32 MB Samsung Compact Flash
32 MB Integral Compact Flash
48 MB SanDisk Compact Flash
64 MB Dane-Elec Compact Flash (Samsung Flash)
128 MB Dane-Elec Compact Flash (Samsung Flash)
128 MB A1 Compact Flash
128 MB Samsung Compact Flash
256 MB Samsung Compact Flash

UNSUCCESSFUL:
128 MB Dane-Elect Compact Flash (Toshiba Flash inside - data corruptions)
256 MB A1 Compact Flash (Not detected by B-DOS)
As more cards are tested they will be added to the list. If you have tried cards with your Compact Flash Interface please email me with the size and brand to add to the list. I recommend both Samsung and SanDisk compact flash, due to the high compatiblity controllers used within the cards. I do not recommend Toshiba based Compact Flash with the Sam - this seems to suffer from a lot of data corruptions (perhaps it doesn't like the slow IDE bus?)