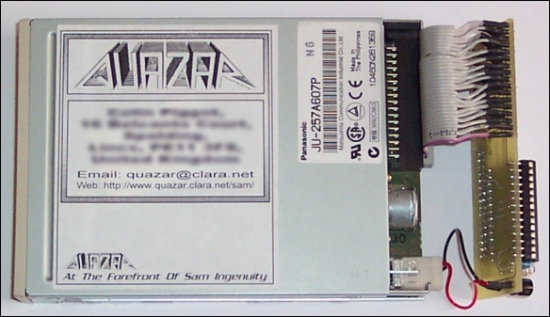 The disk drive system
I was being asked more and more about spares and repairs, and I'm helping out where ever I can, and as a result in May 2001 I launched a new disk drive system for those who wanted a disk drive for their SAM, or wanted to fit a second drive.
My Disk Drive System consists of a disk drive mechanism connected to an interface board with the control circuitry and the disk controller chip.
The whole unit fits inside the SAM just like the original MGT/SamCo drives, and is easily fitted in five minutes. The disk drive system is fully compatible with all SAM disk format's and DOS's, as it uses the same disk drive controller IC.
The FAQ below covers most questions about the disk drive system which I have been asked, but of course feel free to email me should you have any other queries.
The Disk Drive System is available now, priced £89.99

Frequently Asked Questions...
Do these disk drive systems act exactly like the original MGT / SamCo disk drives?
Yes they do, the disk drive controller circuitry is the same to ensure full compatibility with the SAM and all various DOS's and special disk formats. And as normal, it is DSDD disks that are used with them - all Sam disk drives and DOS's only support Double Sided Double Density disks.
Do the drives fit inside the Sam properlly?
Yes, the drives are mounted internally. A front blanking plate, or the casing from an original SAM disk drive can be cut to fit around the disk drive to make the front of the Sam all neat and tidy. (If you order a disk drive system I will happily cut a front blanking plate to fit if you send one with the order. Unfortunately I do not have any spare front plates to be able to supply with them.)
The photo below shows the front of a SAM with the disk drive system fitted,

And the next shows it with a cut blanking plate fitted.
I already have a floppy controller / spare disk drive, can you supply the interface without these?
Yes I can, the interface is available on its own for £64.99. On request I can also fit slightly longer cables so it can be used with a Gotek.
What colour of bezel will be on the disk drive?
The drive supplied may have a cream or black bezel, depending on the current batch of old stock new disk drives I have been able to source.