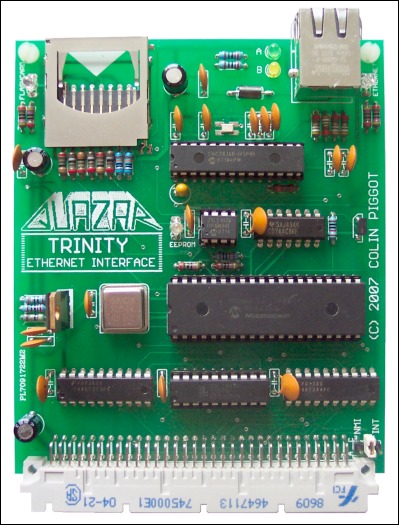 I am now pleased to announce that the Trinity Ethernet Interface is now available! The concept of Trinity it to bring ethernet to your Sam with the goal of getting the Sam onto the Internet. The interface consists of three main sections - hence the name Trinity.
The first and most important part is the ethernet controller, a self-contained chip to deal with the communication side of things. The second section is a 128K EEPROM which is used for storing settings for ethernet enabled applications as well as the general ethernet configuration. (This was originally just 8K as announced in Sam Revival, but having kicked the idea about a bit with other people I've now gone for 128K). The third section is a card slot for MMC and SD flash memory cards to expand the memory of the interface, as well as being another means of mass storage for your Sam files. And all three peripherals are linked to the Sam via a microcontroller which acts like a central hub.
The interface comes with a programming manual outlining how to access the hardware and all the I/O programming gubbins, and a disk of software - with some test routines for checking the eeprom, mmc/sd flash, and the ethernet controller as well as setup routines to format the eeprom, and set MAC address, IP, Gateway, DNS etc.
Trinity Update
MMC / SD Flash Card Support
B-DOS has now been patched to use the MMC / SD card slot on the Trinity Ethernet Interface for mass storage. My thanks to Edwin Blink for saying it was fine to patch B-DOS. This is bundled with the Trinity Ethernet Interface, and thanks to extra work by Chris Pile it now supports cards up to 64GB in size..
Ethernet TCP/IP Stack
Adrian Brown is still hard at work with his port of the uIP TCP/IP Stack. He's been making excellent progress with the testing - most recently the ACK and SYNC communications to establish a TCP connection. Adrian's now finishing off the routines to use for applications to interface with the TCP/IP stack code, and a simple application to test it all out and demonstrate the code in action. Things are tantalisingly close to completion! Once the port of uIP is complete then there are several developers keen to get started on giving the SAM some full internet applications! Several download demos are included with the interface.
Please note PCB colour may vary!
Quick Ordering
The Trinity is priced at £79.99. (Postage at cost - please email with you country and I can quote for the postage.)